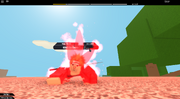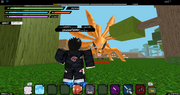 Description
This mode is found at the Death Forest outskirts and near Final Valley. This Sub-Jutsu spawns every 2 hours and 12 minutes. When it spawns, Kurama will appear, with a scroll in front of him. To collect the scroll, all one must do is step into the circle, and Kurama will vanish, granting you the Jin Cloak in your Sub-Jutsu menu.
Traits
Special
Active: When you press Z with this mode on, you will be able to use Vermillion Rasengan, a technique where the user creates a Rasengan that does a little teleport dash into the target, launching him away, causing a explosion.
Passive: This move does not possess any special passive effects.
Trivia
This was the ultimate move from Jin Cloak Naruto in the PTS manga and anime.
This Mode can stack with your KGs.
While its tab when not unlocked says its spawns in the Final Valley, a more accurate location would be the Forest of Death outskirts.